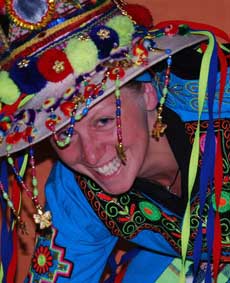 Sanne Derks was born on the 28th of October 1979 in St.-Hubert, the Netherlands. After her secondary education she started studying psychology at the Radboud University (RU) in Nijmegen in 1998. After a trip to Guatemala, where her Latin American passion was born, she specialized in the psychology of culture and religion. For her final thesis she conducted eight months of fieldwork in Bolivia in 2001-2002, on the religious experiences of Quechua-women in the Cochabamba Valley.

Between 2004 and 2009 she worked on her Ph.D. research at the Institute for Gender Studies and the Department of Cultural Anthropology, also at the RU on the ways that believers deal with poverty, domestic violence and ethnic exclusion at the Bolivian pilgrimage shrine for the Virgin of Urkupiņa in Quillacollo, Bolivia. For this project she conduced more than one and a half year of anthropological fieldwork in Bolivia.

During her Ph.D. project she participated in several international conferences on religion, pilgrimage and Latin America all over the world. During, and after, her employment period at university she published in several national and international journals. She prefers to write articles for a broader audience, as she can put in more creativity in popular articles.

After her Ph.D. defence in July 2009 Sanne worked on several different projects. For the NGO Soa Aids Nederland she conducted a research on the opinions on sexuality of pastors and youth of different Dutch migrant churches. She also worked as a lecturer in Psychology and Cultural Anthropology at the RU, as a volunteer coordinator for the Foundation Ayni Bolivia Netherlands and as a tour guide in Argentina, Bolivia and Peru for Sawadee Reizen. In addition, she directed a documentary on the different ways that money and religion come together at the Bolivian pilgrimage shrine of the Virgin of Urkupiņa.

At the moment she works as a lecturer in Applied Psychology at the Fontys University of Applied Sciences in Eindhoven.