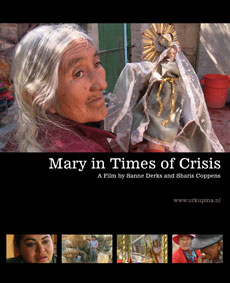 Flyer enlarged >
Poster enlarged >
Trailer film >



Mary in times of crises

How could I pour these beautiful women, with their passions, gestures and characteristics and their colourful rituals, in text? Impossible. I had to do something with the images of my research. In collaboration with Sharis Coppens, documentary maker and visual anthropologist from Amsterdam I made a documentary about the different ways that money and religion come together at the pilgrimage shrine.

To Lourdes you go for health, to Urkupiņa for wealth. At the shrine of the Virgin of Urkupiņa pilgrims come during the whole year to ask Mary for money, cars and houses. Pilgrims not only ask verbally for money, they also materialise their requests in the most characteristic ritual at the shrine: the dislodging of stones from the mountain. The stones are seen as money being lent by the Virgin. We follow three Bolivian women in their activities around the four-day during fiesta, when the amount of pilgrims increases dramatically: the two elderly indigenous sisters Virginia and Victoria who earn a living by theatrically selling prayers and blessings to the pilgrims. They deploy Mary strategically and inventively to improve their economic positions. The movie also shows the storey of Escarlent, a young rock-chick from their city, who comes to Mary in the hope she can keep her bar from going bankrupt. Their paths cross at the pilgrimage shrine.

In august 2011 I went with Sharis and David Lingerak to Bolivia to shoot the material. At the first of June 2012 the movie has its premiere at the Beeld voor Beeld Film Festival in Amsterdam.

The documentary has been partly funded by the Frye Stipend, a prize I won in 2007 as a promising researcher at the Radboud University Nijmegen. Also NCDO, the Dutch expertise and advisory centre for citizenship and international cooperation; NOW, the Dutch Scientific Organization, the NGO Mensen met een Missie; Foundation Marjan Rens and the Foundation for Money and Trade have supported the documentary with a financial contribution.